Weber State University (WSU), nestled in the heart of Ogden, Utah, began a transformative journey over a decade ago, aimed at becoming a beacon of sustainability in the world of higher education. In 2009, WSU had a vision to achieve carbon neutrality by 2050 – an ambitious goal that would require a detailed strategy and a significant commitment of time and resources. Today the University's commitment to sustainability resonates within its walls and stretches beyond into the community it serves.
Driven by commitment, innovation, and the powerful capabilities of Atrius sustainability and energy management software, WSU is reshaping its own future. With initiatives like campus-wide electrification and the revolving loan fund, they're also setting the bar for other higher education institutions to follow in their footsteps. The progress they've made in advancing their goals and accelerating their timeline to net zero emissions has been nothing short of inspiring.
The Vision: Weber State University's Climate Action Plan
Unveiled in 2009, WSU's Climate Action Plan set forth an ambitious goal for the entire campus to be carbon neutral by 2050. Today, with tangible results in reducing greenhouse gas emissions, WSU revised its plan, aiming to achieve carbon neutrality ten years earlier than originally anticipated, by 2040. This audacious goal includes reducing all Scope 1 and Scope 2 emissions, and key Scope 3 emissions like student and employee commuting, waste, and business travel.
A Thorough 5-Point Strategy to Achieve Carbon Neutrality
WSU's Climate Action Plan is built around a detailed 5-point strategy:
Efficiency First: Minimize energy consumption with efficient windows, LED lighting, high insulation requirements, and water-cooled, ground-sourced variable refrigerant flow (VRF) for HVAC (Heating Ventilation Air Conditioning), and energy recovery ventilation. Since 2009, the University has recaptured over 21 million dollars in savings.
Electrify Everything: WSU is electrifying all energy uses on its campus, a step the University's energy and facilities management teams recognize as one of the most significant parts of the process.
Source Renewably: WSU is harnessing renewable energy, including ground source fields and solar energy, to power their campus. Any remaining electricity needs will be sourced through utility wind and solar programs.
Reinvest Savings: WSU has established an innovative $5 million revolving green fund set aside for energy and sustainability projects.
Carbon Offsets: Carbon offsets will be purchased only as a last-resort solution to reach carbon neutrality.
Ambitious Climate Action Plan initiatives have not only contributed significant savings to the balance sheet, but in some cases, the university is years ahead of regulatory pressure.
"In 2021-2022 we had some exceptional drought conditions leading to a state mandate to reduce total water consumption 25% by 2026. We've already cleared that threshold."

– Jenn Bodine, Sustainability Manager at Weber State University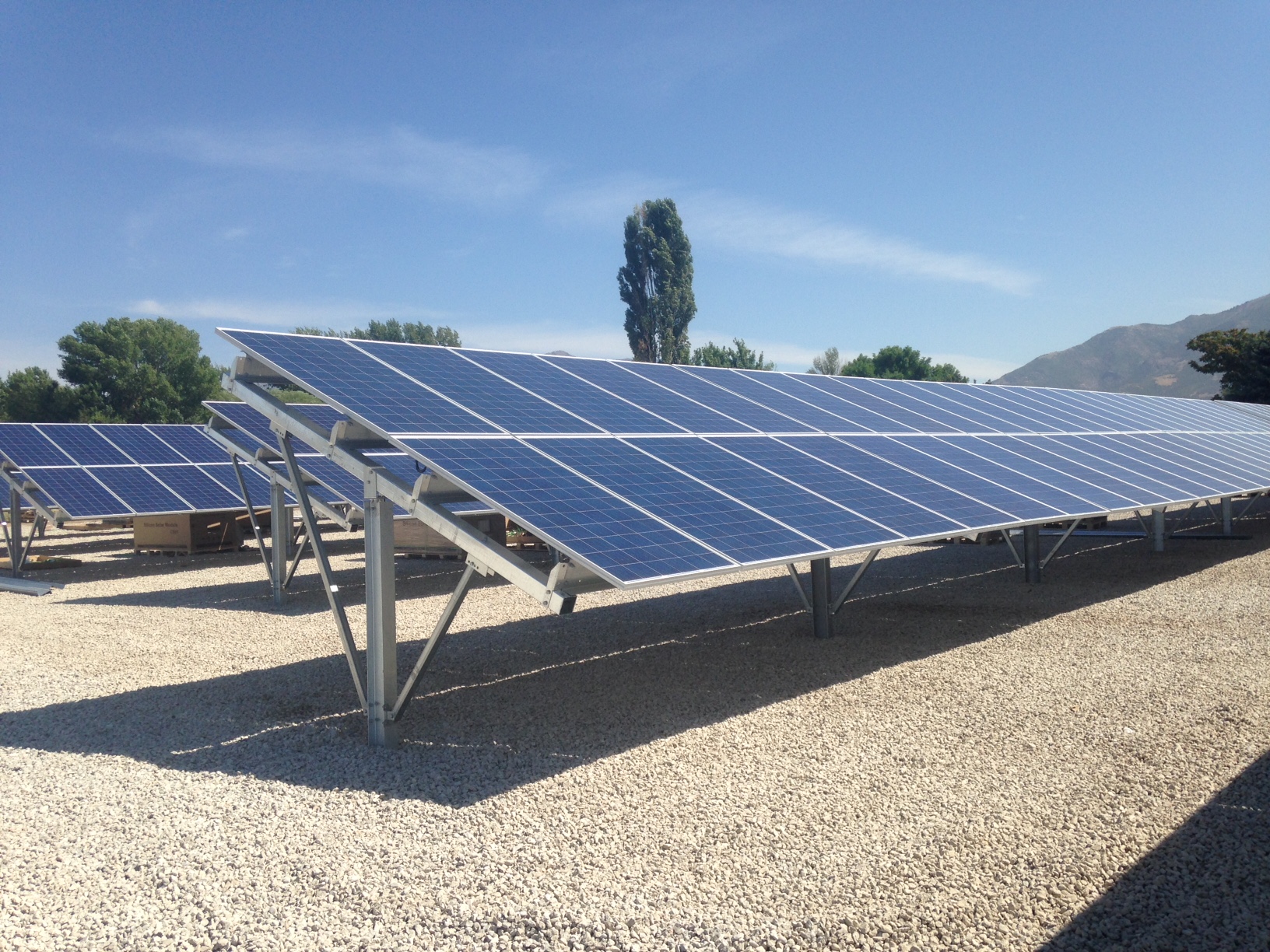 The Difference Between Reducing and Optimizing Energy Consumption on a College Campus
An increased focus on managing energy and reducing carbon footprints can sometimes create conflict between two distinct (but interconnected) concepts: energy reduction and energy efficiency. Energy reduction is theoretically much easier. If you want to reduce the amount of electricity consumed by overhead lights in a building, just turn them off. Achieving energy efficiency is a more nuanced task because it recognizes the primary purpose of a building – to provide a comfortable and functional space for occupants.
The critical role of anyone responsible for making the built environment more energy efficient is to do so without sacrificing the comfort, or functionality of the space. Especially on a college campus, where not only the comfort but the well-being of resident students is a major consideration. Weber State's campus has multiple buildings including dormitories, libraries, classrooms, and laboratories, each with different energy needs and occupant behaviors. Understanding the nuances of energy reduction and efficiency in these unique spaces is crucial.
The Electric Revolution: Plugging into a Brighter Future
Building on the success of their early energy efficiency initiatives, the WSU sustainability team set forth on an ambitious quest to completely electrify their campus. This decision marked a significant shift away from traditional fossil fuel-based processes, setting the stage for an unprecedented transformation. They emerged as pioneers among U.S. universities by outlining an extensive plan to convert buildings to electric heat-pump-based mechanical systems and transitioning to using electric vehicles and equipment wherever possible.
"On the electrification front, it's a holistic look at campus, not just a single building. It's a shift from viewing electrification as something that increases energy costs – because you're doing the upstream plant equipment, for example – to viewing it as a transformation that needs to happen campus-wide."

– Justin Owen, Energy Manager at Weber State University
The shift towards all-electric models for WSU's infrastructure, vehicles, and equipment is enabling the University to decrease (and ultimately eradicate) the use of fossil fuels, thereby sourcing its energy from renewable resources. Justin and his team are realizing the benefits of beyond emissions reduction; it's helping them enable students and staff to exercise more precise control over building systems like lighting and HVAC.
"Normally, with something like a VAV mechanical system, you'll have three or four zones connected to 1 thermostat, and the system fights itself. In an electrified building, everyone has their own thermostat and can set it according to their own preferences, and because of the energy recovery, we use very little energy to keep each of those spaces individually comfortable."

– Justin Owen, Energy Manager at Weber State University
Thanks to the electrification transition and several other energy efficiency projects, WSU has managed to reduce its Scope 1, 2, and 3 emissions by 31%, 60%, and 34% from 2007 baselines.
The Cycle of Investment: Reaping the Rewards of Sustainability
Another innovation that sets WSU apart in its sustainability journey is the revolving green fund, a unique method of reinvesting energy savings. In 2009, Weber State became one of the first public universities in the U.S. to establish a dedicated loan fund for financing energy and water-saving projects. The realized utility savings from the implemented projects are used to pay off the debt and then funds are borrowed again to complete a fresh round of projects. With an initial investment of $5 Million, the University has completed several energy-saving projects with green fund financing and created a sustainable cycle of investment.
"After about 10 years of demonstrating that the model worked, we've started to take on bigger and more impactful projects. We're still incredibly careful, but now we know we can stomach a $2 Million solar project with a 35-year ROI (Return on Investment)."

– Justin Owen, Energy Manager at Weber State University
The Impact of Data and Visibility on Sustainability Efforts
Atrius software has been instrumental in WSU's sustainability journey. For the University's energy and facilities management teams, it's an integral part of a proactive management strategy enabling them to identify areas for improvement, measure progress, and report achievements to the community at large. Justin and his team use Atrius to monitor their energy consumption, detect anomalies, and use real-time and historical views of building performance data to make swift decisions and adjustments – often resulting in significant energy and cost savings.
"Atrius gives me the ability to easily benchmark building performance data, view it in real-time, and set consumption alerts. When I'm looking at the real-time consumption data for a particular building, I can compare current performance to known baselines. If I knew that a 40,000-square-foot building should have a peak demand of about 100 kW under our new mechanical systems, I'll have the Atrius platform alert me if the building exceeds that threshold. The alert serves as an early warning that something might be going wrong, and I can quickly deploy technicians."

– Justin Owen, Energy Manager at Weber State University
The university's energy and facilities teams also rely on Atrius software to provide the granular, building-level insights they need to make calculated decisions about large investments – and to measure their impact after implementation.
"Atrius drives our pre- and post-analysis of mechanical retrofit projects. I can show stakeholders exactly how much we have reduced demand over what period."

– Justin Owen, Energy Manager at Weber State University
Laying the Groundwork for Continuous Innovation
After having success using Atrius software to monitor energy use, the University's and facilities teams are turning their attention to water consumption.
"We've followed in the footsteps of the energy management program creating a detailed water conservation […] outlining the goals and objectives in terms of implementing water conservation efforts, both indoor and outdoor. We're in the process of implementing a project over the summer to connect our outdoor water submeters to Atrius so that we can have the same level of detail on secondary water use as we do on culinary water and energy consumption."

– Jenn Bodine, Sustainability Manager at Weber State University
By submetering critical junctures in the University's culinary water lines, Justin is able to have Atrius software alert him to potential main breaks as soon as they happen. This allows his team a quick response time and minimizes the negative impact of these unpredictable events.
"Historically, one of our biggest problems with water consumption is culinary main breaks. Once we have our baseline established, if our consumption exceeds that baseline by X percent for X amount of time, we'll get an alert from Atrius that we might have a leak, and now we have a master valve we can turn off."

– Justin Owen, Energy Manager at Weber State University
None of this would be possible if Justin and his team were still managing energy and water consumption data manually and in spreadsheets. WSU's use cases highlight the critical role of accurate, real-time data in the measurement, management, and reduction of resources.
The Journey Forward
Campus carbon neutrality is still a lofty goal, but Weber State University's considerable strides make it feel more within reach. The progress WSU has made thus far in its sustainability journey is a testament to its unwavering commitment and innovative spirit. After more than a decade since the inception of their Climate Action Plan, a comprehensive approach encompassing energy efficiency, electrification, renewable sourcing, and reinvestment of savings has proven itself as a model for other universities to follow on the journey to net zero.
As WSU continues to break new ground in its sustainability efforts, it serves as a beacon for other institutions, illuminating the path to a smarter, safer, and greener future.
Explore Weber State University's Sustainability Initiatives
Browse the resources below to dive deeper into Weber State's sustainability success: